Sledding & Ice Skating
Away from the slopes, there are many opportunities to fully enjoy the winter. Try a sledding run and make tracks on the ice with your skates.
Naturrodelbahn "Aeroplan"
Weinetsberg 41
5630 Bad Hofgastein
Voranmeldung unter Tel.: +43 (0)6432 8603
aeroplan.at
Rodelbahn "Bellevue Alm"
Tag- & Nachtrodeln
Bellevue Alm Weg 4
5640 Bad Gastein
Tel.: +43 (0)699 18288802
If you'd like to venture onto the ice, you have the opportunity near the hotel on the spa promenade. Or you can try the rink in Bad Gastein when the temperatures have produced good natural ice.
Eisarena Bad Hofgastein
über 1000m² Eis
Verleih der Ausrüstung
Kurpromenade 2
5630 Bad Hofgastein
Natureislaufplatz Bad Gastein
Natureis
Verleih der Ausrüstung
Hauptschulstraße
5640 Bad Gastein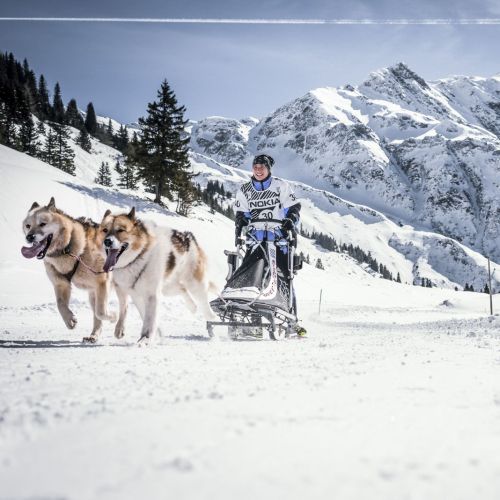 Dog Sledding
Experience a special tour as part of a Husky Adventure Day. You'll care for and feed the dogs and enjoy a brisk dog sled ride.
Termine und Information Tel. +43 (0)664 529 35 89
The Summit Breakfast
An experience at 2700 meters altitude
You start in Sportgastein and take the Goldbergbahn to the Kreuzkogel. There you'll have breakfast in the glass-aluminum dome designed by the famous Austrian architect and designer Gerhard Garstenauer at an altitude of 2700 meters.
Over freshly brewed coffee, muesli, and pastries from the regional bakery, you'll enjoy a spectacular panoramic view of over 400 majestic mountain peaks in the High Tauern.
Reservations at our reception or directly at www.gastein.com
High up
A special way to experience the refreshing water of the Gastein Valley is a ride over the waterfall in Bad Gastein with Flying Waters.
Flying Waters
Kaiser Franz-Josef Straße 16
5640 Bad Gastein
Tel. +43 (0)670 400 23 50
E-Mail: info@flyingwaters.at
www.flyingwaters.at
Tandem Paragliding Flight
If you want to experience the feeling of flying even more authentically, then contact Lois Grugger. During a tandem paragliding flight, you'll explore the Gastein Valley from above.
+43 (0)664 42 32 322